Armoring the Digital Age: Quantum Creation FX
The Costume Designer Tech Tidbit

B
WRITTEN BY: CHRISTINE COVER FERRO Spring 2013
"Much of the technology of special effects sprang fully formed from its creators' brow, and many of the techniques used to transform Ricou Browning and Ben Champan into The Creature from the Black Lagoon contine to work perfectly well today.
"The finer points of the process, however, have incorperated cutting-edge technology into their evolution. On a recent visit to Quantum Creation FX, Christian Beckman walked us through some of the new methods that they've incorpperated into their fabrication process."
God of War: Ascension "From Ashes" BTS,
In-depth Behind the Scenes VideoB
PUBLISHED Feb 8, 2013
"Go behind the scenes to see the process of bringing Kratos, from the hit PlayStation-exclusive franchise God of War, to life along with an entire Spartan army in the "From Ashes" live action trailer for God of War: Ascension."
ENDER'S GAME to be Released in IMAX,
Plus New Production UpdatesB
WRITTEN BY: DAVE TRUMBORE
"For a project that has the epic scope of Ender's Game, it's only fitting that the film be released in IMAX. Fans can look forward to seeing the adaptation of the beloved Orson Scott Card novel in IMAX format when it debuts in theaters November 1st, 2013. The sci-fi film from director Gavin Hood (X-Men Origins: Wolverine) follows Andrew "Ender" Wiggin (Asa Butterfield), a boy trained at a military battle school in the hopes that he'll develop a strategy to defeat the alien menace known as the Formics.​"
NPR That's Not CGI: At Monsterpalooza, Monsters Are Real
WRITTEN BY: BETH ACCOMANDO
"Summer is coming, and with it comes big summer movies, stuffed full of computer-created aliens, monsters and giant explosions. Not all filmmakers want to use CGI, however, and many of them gathered to celebrate the craft of "practical effects" at a recent convention called Monsterpalooza in Burbank, Calif.
...
"CGI may be able to create anything, but visual effects artist Christian Beckman says the results aren't grounded in the real world and forced to obey the laws of physics, so your brain doesn't always buy into it.
"When you have a performer in a suit, that is the movement. That's your body. That's your anatomy," he says. "There are some CG characters that you're going to watch and they just don't have the right movement and right away you lose it."'
Focus On Superhero Costume Builders
WRITTEN BY: ANNA WYCKOFF
"Quantum Creation FX came into being as a creature shop, but superhero costumes were a natural progression because their construction techniques tend to cross over. "We did specialty costumes for Michael Wilkinson on 'Tron' and 'Watchmen,' and have worked with Michael Kaplan on 'Star Trek,' among others," says Christian Beckman of Quantum Creation FX. The company builds costume elements like armored vests and helmets, as well as produces complete costumes—in the case of "Tron," about 125 total.
​"The procedure for fabricating a superhero costume is intricate. After a bid is greenlit, Beckman does extensive R&D based on a 2-D sketch. 3-D scanners take complete measurements of an actor in minutes. These figures are used to make a foam representation of the body before bodyforms are cast."
OH, FOR THE LOVE OF GORE​
Q&A In FLAUNT Magazine with Ti West and Christian Beckman​.
WRITTEN BY: EMMA-LOUISE TOVEY
"For an industry worth billions, Hollywood's entertainment machine is much smaller than you think. There are minute degrees of separation, because when you break in, you stay in. (Especially if you're afraid to leave—mwahhahahaha!) Director Ti West met special effects guru Christian Beckman when appointed Beckman's shop, Quantum FX, to execute the gory bits of West's Cabin Fever 2..."
WHERE FACT MEETS FICTION
Q&A In Schön! 14 - Strike! with Christian Beckman
WRITTEN BY: REBECCA CHUKS
"We talk to Christian Beckman of Quantum Creation FX who is responsible for many of the 'marvel'-ous makeup effects and costumes that make cinema seem so very real."
TRON: Legacy​
DVD Review in SLANT Magazine
WRITTEN BY: CHRIS CABIN
"And extraordinary they are: Kosinski, a heralded architect and video game/commercial director working closely with production designer Darren Gilford and the team of geniuses at Quantum Creation FX, unveils a vinyl ultraworld emblazed with orange, yellow, white, and blue neon streaks, complete with oceans of negative space, a dazzling score courtesy of Daft Punk, and perhaps the most sexualized computer program ever put to the screen, in the guise of Olivia Wilde."
TECHNOLOGIC
HDVideoPro Article on TRON: Legacy
WRITTEN BY: KEVIN H. MARTIN
​"Back in the cyber domain, onstage illumination was provided by costumes as well as sets. Quantum Creation FX fabricated self-lit suits, using a flexible Oryon Technologies polymer called ELastolite® that integrates variable-intensity electroluminescent lamps within the material."
ALL THE RAGE​
LA Times: 'Tron: Legacy' costume designer talks light-up suits, pixie hairdos and Spanx
WRITTEN BY: BOOTH MOORE
"From the beginning, we knew we had to do practical lighting on the suits, so we reached out to three special effects houses in the Los Angeles area. And one of them, Quantum Creation FX, found a sample that had just been developed, and had only been used on Japanese security vests. It was a thin vinyl sheeting, flexible and pliable. The technical name for it is a polymer-based elastomeric electro luminescent lamp."
FEARnet'S 'ZOMBIE ROADKILL'​​
TUBEFILTER covers the leak of ZOMBIE ROADKILL's trailer
WRITTEN BY: DREW BALDWIN
"The series marks the fourth FEARnet project from Sam Raimi's Ghost House Pictures. The six episode horror-comedy was written by Henry Gayden and directed by David Green. Like FEARnet's successful series Fear Clinic, which took home a Streamy Award for best Best Visual Effects, Zombie Roadkill promises some spectacular special effects, thanks to Frank Langley and Tom Bacho of Quantum FX (Where the Wild Things Are, Star Trek, Watchmen), who were brought on to bring the terrifying creatures to life."
FIRST LOOK: COSTUMES OF TRON​
The Hollywood Reporter Hollywood Style First Look
WRITTEN BY: LESLIE BRUCE, The Hollywood Reporter November 10, 2010
"...the call went out to special effects companies to find a light source that was both pliable and lightweight. With the help of Quantum Creation FX, they stumbled upon a solution in an unexpected place: It was a piece of light tape being made in the U.S. for the vests of Japanese security officials. Although basic in its design, the [designers] knew it had Tron-tastic potential."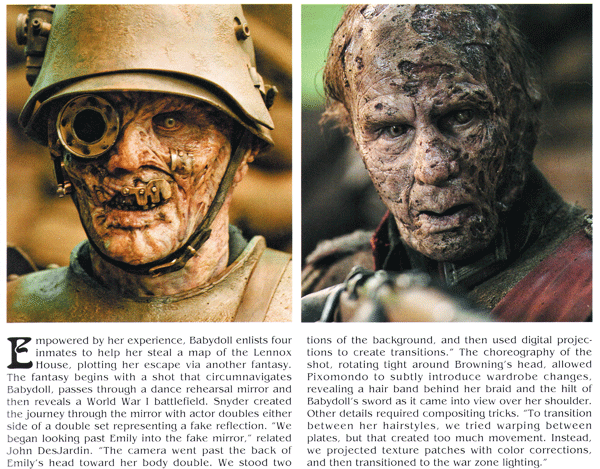 NIGHTMARES & DREAMSCAPES
Cinefex number 125 article on Sucker Punch
WRITTEN BY: JOE FORDHAM, Cinefex April, 2011
"Babydoll and her team enter enemy territory and run into mutated German stormtroopers with steam-powered mechanical faces. Quantum Creation FX created stormtrooper makeups as prosthetic applications on stunt performers, with radio controlled appendages and breathing mechanisms..."
LEGACY SYSTEM
Cinefex number 124 article on TRON: Legacy
WRITTEN BY: JODY DUNCAN, Cinefex January, 2011
"Whether acting on the bluescreen stage or on a full practical set, actors portraying hero characters wore illuminated foam suits created by Quantum Creation FX. Building the suits was a major endeavor, requiring the efforts of 150 artists and technicians spread over three buildings..."
THE MANHATTAN PROJECT
Cinefex number 117 article on Watchmen
WRITTEN BY: JOE FORDHAM, Cinefex April, 2009
"Costume designer Michael Wilkinson commissioned Quantum Creation FX to build superhero suits for the Watchmen team. The most complex suit design was for Nite Owl (Patric Wilson) -- morally conflicted scientist and inventor Dan Drieberg -- who wore a cowl and cape in a hooded bird design..."